Bitfinex Securities and SkyBridge Digital Finance are pleased to announce the signing of a Memorandum of Understanding (MoU) at the esteemed Astana Financial Days Forum
16 june 2023
The historic MoU signing ceremony between Bitfinex Securities and SkyBridge Digital Finance took place on June 7th, 2023, at 6 PM at the Astana Financial Days forum, a renowned platform that brings together industry experts, thought leaders, and key stakeholders from the finance and technology sectors. The signing ceremony was attended by distinguished speakers Jesse Knutson, Head of Operations at Bitfinex Securities, and Yessengeldy Rakhimbekov, Managing Director at SkyBridge Digital Finance.
Bitfinex Securities is a renowned digital asset trading platform that provides advanced trading solutions and services to a global clientele. With a strong focus on security, liquidity, and innovation, Bitfinex Securities has established itself as a trusted name in the industry.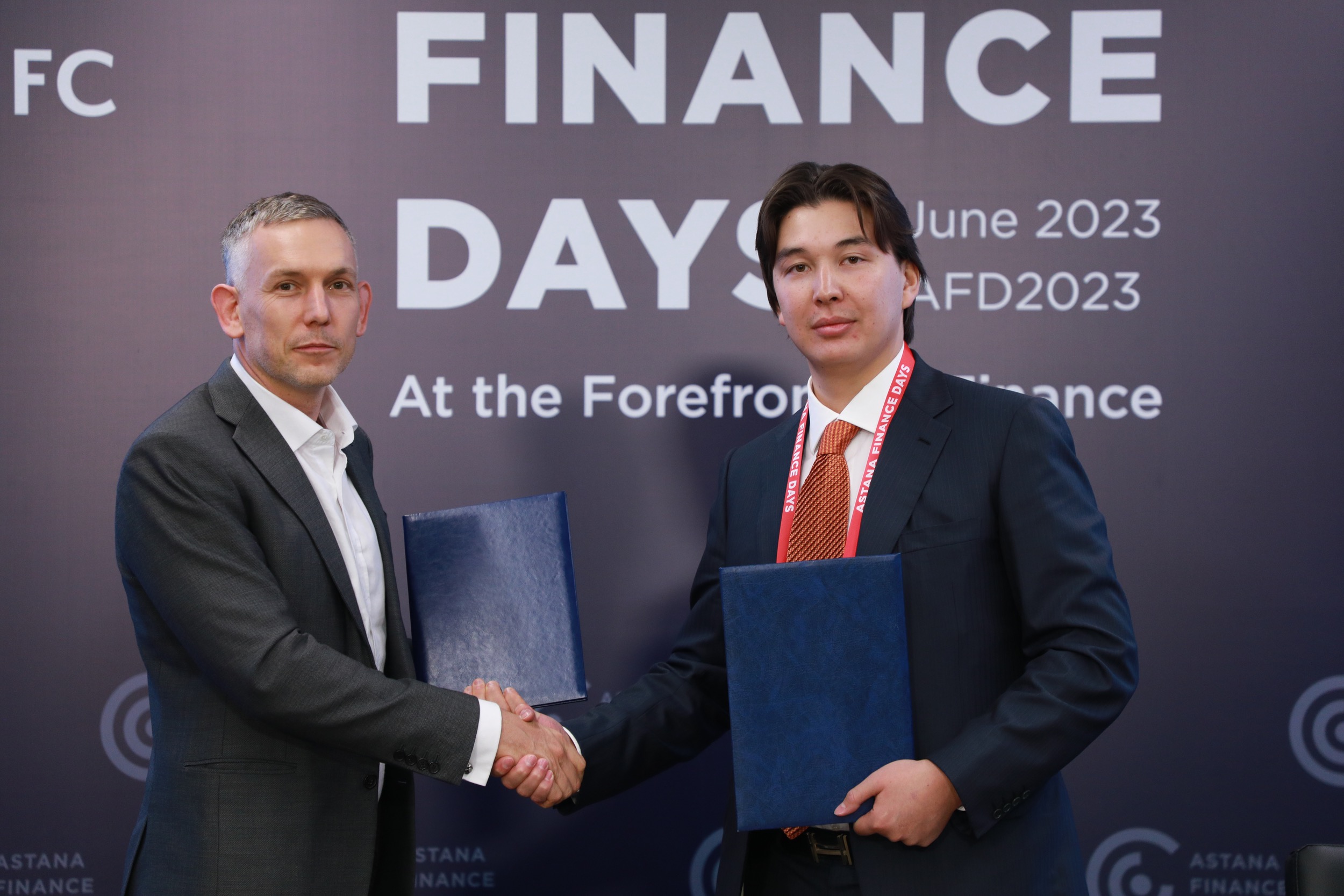 SkyBridge, on the other hand, is a well-respected group of companies based in Kazakhstan and is known as the first asset management company in Kazakhstan to launch mutual investment funds. They specialize in asset management, wealth management, and financial advisory services. SkyBridge has been at the forefront of promoting investment opportunities in the region and fostering economic growth.
The signing of this MoU marks a significant milestone not only for the strategic collaboration between Bitfinex Securities and SkyBridge Digital Finance but also for the entire industry. Both companies share a vision of exploring new opportunities in the emerging market for tokenized securities, as well as expanding their product offerings and services to meet the evolving needs of a rapidly shifting global clientele.
Through this partnership, Bitfinex Securities and SkyBridge Digital Finance aim to leverage their respective strengths and expertise to facilitate the development of a robust and regulated ecosystem for tokenization of SME businesses' securities from most parts of the world. The collaboration will involve various initiatives, including collaboration on new products, information exchange, development and execution of common strategies on Securities Token Offerings, dual listings for securities, tokenized funds, synthetic securities, and integration of digital systems to optimize clients' user experience.
Speaking at the signing ceremony, Yessengeldy Rakhimbekov announced, "We are thrilled to enter into this strategic partnership with Bitfinex Securities, a company that is not bound by geographical boundaries, enabling investors and issuers from around the world to participate in our mutual projects. I believe that together with Bitfinex Securities, we are standing at the foundation of a technical revolution in blockchain finance that will be similar in magnitude to the internet's impact on conventional finance during 20th century. With tokenization, we are building a new status quo with a shifting paradigm towards global inclusion. The Memorandum of Understanding is a small step for our companies, but a leap for the finance industry."
Jesse Knutson, representing Bitfinex Securities, commented, "Given SkyBridge's experience and presence in Kazakhstan as well as their expertise and capabilities in traditional capital markets, we view this cooperation as an important bridge between traditional and new finance. Working with SkyBridge bolsters our ability to bring more high-quality assets to Bitfinex Securities, offers issuers a cheap and efficient path to deeper pools of global liquidity, and is another important step in the development of capital markets in the AIFC, Kazakhstan and Central Asia more broadly."
Both companies expressed their enthusiasm for the future collaborations that will arise from this MoU, highlighting the potential to drive economic growth, attract international investments, and position the Astana International Financial Centre (AIFC) as a regional hub for innovation.